From Two of a Kind:
" I am always on the lookout for websites that carry fun baby and toddler items. I love "cutesy" products, they make having a baby even more fun!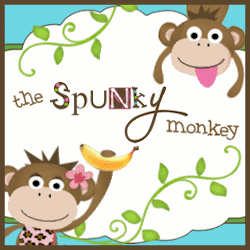 I recently found
The Spunky Monkey
! Not only is this website packed full of fantastic products, but the owner is just as amazing! Stacy is a really fun lady who has done a wonderful job of finding some of the cutest products out there to have on her website.
This Cry Babyz Blue Zoo Animals
Diaper and Wipes Case
is a great item to have. Many times I have reached in my diaper bag only to find a scrunched up diaper. Now that my little man is older, I don't have to always carry a diaper bag and it would be so easy just to grab this adorable diaper case and throw it in my purse. It keeps the diapers and wipes together and easy to find.
It will hold a travel size baby wipes and 2-3 diapers. The Diaper Case is sturdily made and lined with cotton fabric. It has a Velcro closure for easy access.
Isn't this pacifier
Gift Set
adorable? It comes with a Paci Pocket that will hang from any bag, stroller, or cart. Simply put the pacifier in the pocket to keep it clean. The actual pacifier is made in the US and meets all of the requierments for the CPSC pacifier standards.
This
Wet Bag
is 12"x 14" and has an adjustable strap that closes with Velcro. I never had a Wet Bag, but will need one with this baby. When you are out in public and have wet or dirty diapers, just throw them in the Wet Bag to keep them separated from your dry diapers!
The Spunky Monkey has other fantastic products such as:
-Totes
-Shoes
-Towels
-Decor
-Clothing
-Gear
-Toys
-Gifts for Mom
-And MANY more
BUY IT
The Diaper Case
is $15.95.
The
Pacifier Gift Set
is $19.95
The
Wet Bag
is $24.95
WIN IT!!
Stacy is giving one of my readers ALL THREE Cry Babyz Blue Animal products pictured above. One reader will receive a Diaper Case, Pacifier Gift Set, AND the Wet Bag.
To enter, visit
The Spunky Monkey
And tell me another item that you love!
This is required and must be done before the extra entries count!"